4th Phase Of Civil Homes at Dhapakhel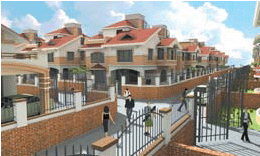 Housing is one of the basic needs of the Human lives. The forms, planning, architectural designs of houses shelters have been changing through the ages of times.
These changes have demanded more comfort, facilities according to changing life style of the inhabitants. Due to increased demand of housing, Civil Homes Pvt. Ltd. is taking up another housing project at Dhapakhel VDC, Latitpur. The site is 1.8 kilometer away from the main Satdobato Chowk. Project within 127 Ropanis will be started very soon. The design of the project is almost completed and the pipeline work is on progress. The project includes 100 independent houses in 3 models and 6 apartments of 17 stores each to house 350 families. The Project will be developed as a satellite town with community center and recreational center.